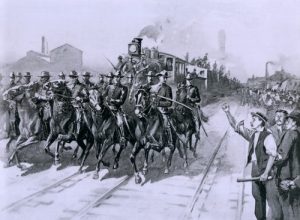 Labor Day is here. For most of us, that means a day off work, the beginning of school, or a bid adieu to summer. But how did the first Monday of every September become a holiday? From its murky origins to its present day vacation placeholder, the history of Labor Day is a long one.
George Pullman and the Railroad Sleeping Car Company
Outside the melting pot of 1880s urban Chicago, businessman George Pullman founded a "worker's paradise." Visionary in its ideals, the company town of Pullman, Illinois, was the largest and earliest of its kind. Some 6,000 company employees bought from company-owned markets, lived in company-owned rentals, and learned and dined at company-owned churches, libraries, and entertainment venues.[i]
This idea of a company town was not new. It was a common practice among mining companies to establish these towns to minimize payout to employees. With upcharges for everything, a miner's take-home check diminished to the point of nonexistence, and at times a miner could owe debts to their companies. Some executies established company towns to maximize profits.
But Pullman's idea was radical. Outside the lure of a frenetic Chicago, a town of peace, order, and prosperity would exist on the foundation of labor rights. According to Pullman, a company-owned town could be good for workers because the company controls value of goods. And since the company also determines paychecks, the worker, in theory, would require less compensation for a high-quality life.
The company town would provide a prosperity to its workers unattainable in other towns.
The Pullman Strike[ii]
For about 14 years the town instituted Pullman's ideas, and they worked. Then the economic panic of 1893 befell the nation. Demand for Pullman cars plummeted. And on May 11, 1894, nearly 4,000 factory employees went on strike.[iii]
The reasons for the Pullman Strike were many: Pullman disallowed any employee from buying or renting a house outside the company town; Pullman had a "paternalistic" governing style, forbidding any democratic initiatives to influence governance; and, as profits and paychecks declined with the demand for Pullman cars, rent remained unmoved.
As the strike gained attention, the American Railways Union (ARU) joined the cause, led by Eugene V. Debs. The ARU called for a nationwide boycott of Pullman cars. Union and non-union members eventually rioted, burning railcars and obstructing railroads.
President Glover Cleveland, under pressure by stifled mail trains and anxious railroad executives, declared the strike a federal crime. 12,000 troops deployed to Illinois to discontinue protests. A story of ensuing violence is told by the Huffington Post.[iv] The clashes between troops and protesters signified an end to the strike. It concluded on August 3, 1894, at peak involving some 250,000 rail employees in over 27 states[v]
When the Pullman Strike ends, the ARU disbands, Debs finds himself in prison for six months, and Pullman employees sign pledges stating they'd never unionize again. The outfall stultified union growth and development across the nation until the Great Depression.
A National Holiday
1894 was an election year. And Cleveland's tactics for ending the Pullman strike was looked upon as ignominious. Picking up on sentiment from union workers in New York City, who in September of 1892 took unpaid time off to protest for a national labor holiday, Cleveland sought to appease working voters.
Six days after troops toppled the Pullman strike, a national labor holiday bill appeared on Cleveland's desk, after passing through Congress with unanimous favorable votes in both houses. Thus Labor Day was born.
A description of Labor Day, found in the PBS archive,[v] is given by Samuel Gompers, then head of the American Federation of Labor, calling it:
"the day for which the toilers in past centuries looked forward when their rights and their wrongs would be discussed…that the workers of our day may not only lay down their tools of labor for a holiday but upon which they may touch shoulders in marching phalanx and feel the stronger for it."
Labor Day Today
Though a century displaced, the spirit of the labor holiday movement can be seen in eight hour work days, overtime pay, vacation days, and many other modern labor laws.
But the intention of Labor Day seems all but lost. According to "Labor Unions in the United States," only about 11.3% of United States workers belong to unions, down from some 35% at peak membership in 1954.[VI] Seen as vital around the turn of the 20th century, and following massive organizing efforts after WWII, reflections on labor and work seems to have dwindled with union politics.
For many people, Labor Day weekend signifies the unofficial end of summer. And for most, it is enough to spend time with family and friends, with a day off from work.
---
[i] Company town (2016). In Wikipedia. Retrieved from https://en.wikipedia.org/wiki/Company_town#Pullman_lesson
[ii] The origins of labor day. (1996). Retrieved September 1, 2016, from News Desk, http://www.pbs.org/newshour/updates/business-july-dec01-labor_day_9-2/
[iii] Pullman strike (2016). In Wikipedia. Retrieved from https://en.wikipedia.org/wiki/Pullman_Strike
[iv] Delaney, A. (2014, September 1). The bloody origin of labor day. Huffington Post. Retrieved from http://www.huffingtonpost.com/2014/09/01/labor-day-2014_n_5738262.html
[v] Ibid.
[VI] Labor unions in the United States (2016). In Wikipedia. Retrieved from https://en.wikipedia.org/wiki/Labor_unions_in_the_United_States#Post-World_War_II
The post A History of Labor Day appeared first on Apartments For Us.